2i, 2i-N Digital Aerosol Photometer
Datasheet
Product Overview
The most advanced, innovative and user friendly digital aerosol photometer available today, the 2i Digital Photometer is portable, yet rugged, and the ideal instrument for in-situ filtration system integrity testing. The iProbe, a handheld scanner with local LCD display and controls, enables the operator to change settings without stopping to adjust the base unit, minimizing downtime.
Applications
Independent filter certifiers
Nuclear facilities
Pharmaceutical manufacturers
Medical facilities and cleanrooms
Biosafety cabinets and fume hoods
Key Features & Benefits
Lightweight, portable and rugged digital photometer
Large 4.3 in. LCD screen to display critical information
iProbe (optional) with 12 ft cable for hard to reach areas minimizes downtime
User settable aerosol noise suppression for more stable aerosol measurements
Printer (optional) available for reporting
2i-N models include a sealed sample train, allowing for the safe removal and replacement of contaminated sampling components
2i-N models are compatible with ASME N511, ASME 510, ASME 509 & ASME AG-1
Innovative User Interface
The 2i base instrument's 4.3 in. LCD gives life to the easy to use, menu driven interface. Aerosol measurements and pump sampling rates are prominently displayed for easy viewing. System parameters and selections such as alarm types, alarm set points and aerosol reagent are shown on the lower menu bar, while icons at the top of the screen give the status of connected peripherals, reporting functions, and aerosol noise suppression selections.
Data Reporting
Three unique report functions are now available with the 2i through the USB or optional thermal printer interface. Continuous mode offers the same output as ATI's legacy photometers to ensure backward compatibility. Monitoring mode provides the ability to collect data at user defined intervals for long term sampling. Summary mode, which gives discrete reporting capability for individual filter locations, can output to the thermal printer to meet customer documentation requirements.
iProbe
The iProbe with a 12 ft cable acts as an extension of the base instrument through a nearly identical user interface. All status and selection icons from the base unit are represented on the iProbe. With the press of a button, the sampling location can be remotely selected and switched by way of an electronically controlled valving system.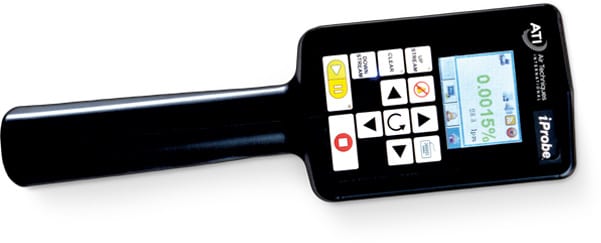 ---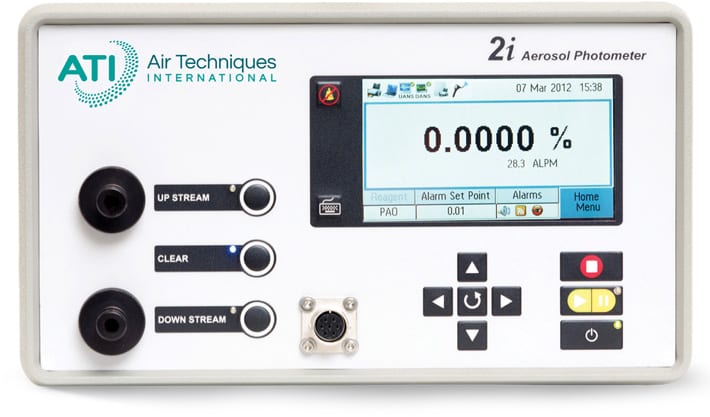 Performance Guaranteed
To ensure consistent results in all applications and altitudes, the sampling flow rate is constantly monitored and controlled via a pulse width modulated pump. The 2i has been independently tested and qualified to ensure compliance with all applicable electrical and safety requirements.
Simple Maintenance
Annual NIST traceable calibration service is provided by ATI or an ATI-certified calibration facility. Calibration includes setting the aerosol reagent references, sample flow reference points, operating voltages, and servicing the light scattering chamber assembly. Routine preventative maintenance entails cleaning and inspection of internal sample tubing and connections, the internal reference filter, and iProbe.
Hazardous Environments
Designed for the rigors of nuclear and other hazardous applications, the 2i-N (the nuclear version of the 2i) is equipped with a unique, sealed sample train. The unit is engineered to allow safe removal and replacement of contaminated sampling components.
Enhanced Features
Upstream aerosol mass concentrations are displayed in actual mass concentration values of micrograms per liter (μg/l). User settable Aerosol Noise Suppression (ANS) allows for more stable aerosol.
What's Included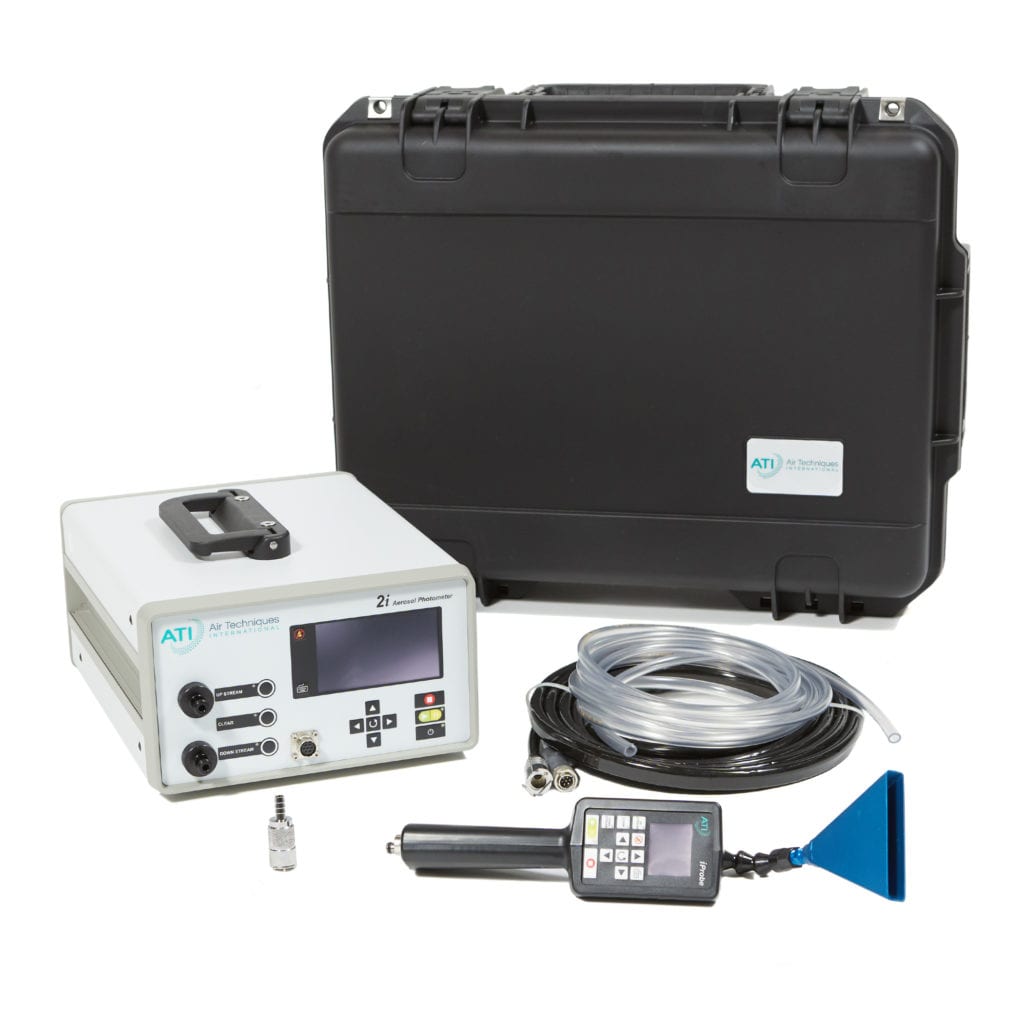 | | | |
| --- | --- | --- |
| # | Description | Part Number |
| As Shown | 2i: Ensemble 120V or 240V | 9300235 or 9300240 |
| As Shown | 2i-N: Ensemble 120V or 240V | 9300244 or 9300245 |
| Not Shown | Power Cord, NEMA 5-15 120V or CEE 7/4 240V | 6700001 or 6700133 |
| Not Shown | O-Rings | 4300002/4300003/4300134 |
| Not Shown | Lint Screen | 550011 |
| Not Shown | Operations and Maintenance Manual | 1800224 |
Specifications
Product Specifications
Dimension (L x W x H)
25.7 cm x 33 cm x 15.2 cm (13 in. x 10.1 in. x 6 in.)
Weight
8.6 kg (19 lb)
Power

Output Voltage
100 to 250 Volts AC, 50/60Hz automatic adjustment
Input Voltage
0.5 amps @ 120V, 0.25 amps @ 240V
Auto Zero
Automatically establishes zero reading at startup
Alarm
User selectable audible, visual, and vibratory
alarms notify the user when the user defined set
point is exceeded.
Flow Control
Pulse Width Modulation (PWM) control ensures
sampling rate of 1cfm (28.3 lpm) +/- 10% in all
applications.
Reagent Settings
PAO-4, DOP, DOS/DEHS, Ondina, PEG, Krydol,
Corn Oil, Mineral Oil, Paraffin
Dynamic Range
0.0001 mg/m3 to 120 mg/m3
Sensitivity
1% of readings > 0.01% to 100%
Repeatability
0.5% of readings > 0.01% to 100%
Light Source
Solid State, rated for life of instrument
Output
USB Connection
Reporting
Continuous, Summary, and Monitoring modes
Standards Compliance
Industry
NSF 49, IEST, ISO 14644-3
Electrical & Safety
CE, FCC, EN 61010-1:2010, EN 61326-1:2006
Accessories
Accessories: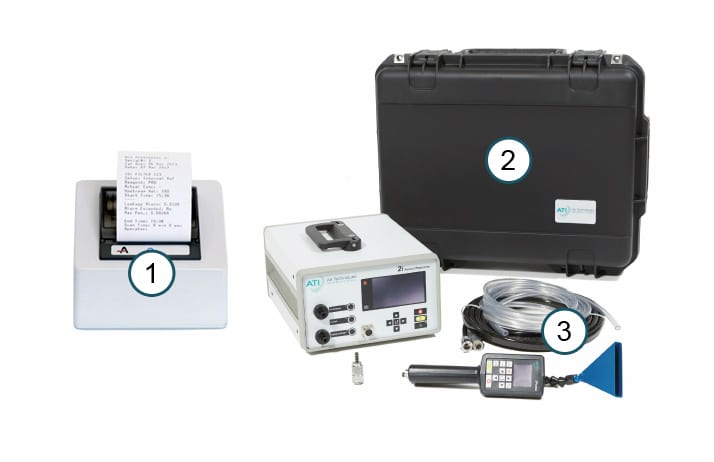 2i Digital Aerosol Photometer Accessories
#
Description
Part Number
1
Thermal Printer
9300249
2
Carry-On Case
9300258
3
iProbe Scanning Probe with 12 ft cord
9300248
Not Shown
Wheeled Carrying Case
9300243
Part Numbers
Part Number & Ordering Information
2i, 2i-N Photometer & Accessories
Description
Part Number
2i
Digital Photometer (120v)
9300241
2i
Digital Photometer (220v)
9300242
2i-N
Digital Hazardous Environment Photometer (120v)
9300246
2i-N
Digital Hazardous Environment Photometer (220v)
9300247
iProbe
iProbe
9300248
2i Printer
2i Printer
9300249
2i Case – Small Heavy Duty Case
Heavy Duty Transport Case (Small, no wheels). Accommodates 2i or 2i-N and iProbe
9300258
2i Case – Large Heavy Duty Case
Heavy Duty Transport Case (Large, wheels). Accommodates 2i or 2i-N, iProbe, and Printer.
9300243
2i Ensemble
2i Photometer (110v), iProbe, Heavy Duty Transport Case (Small, no wheels).
9300235
2i Ensemble
2i Photometer (220v), iProbe, Heavy Duty Transport Case (Small, no wheels).
9300240
2i-N Ensemble
Digital Hazardous Environment Photometer (120v), iProbe, Heavy Duty Case (Small, no wheels).
9300244
2i-N Ensemble
Digital Hazardous Environment Photometer (220v), iProbe, Heavy Duty Case (Small, no wheels).
9300245