Unprecedented demand for the tester was fueled by filter media companies and mask manufacturers responding to COVID-19.
OWINGS MILLS, MD — 7 December 2020 — Air Techniques International (ATI), best known for its decades of experience as a leading designer and manufacturer of photometers and generators used in the clean air and containment industry, acknowledges a record year of orders for the 100X Automated Filter Tester.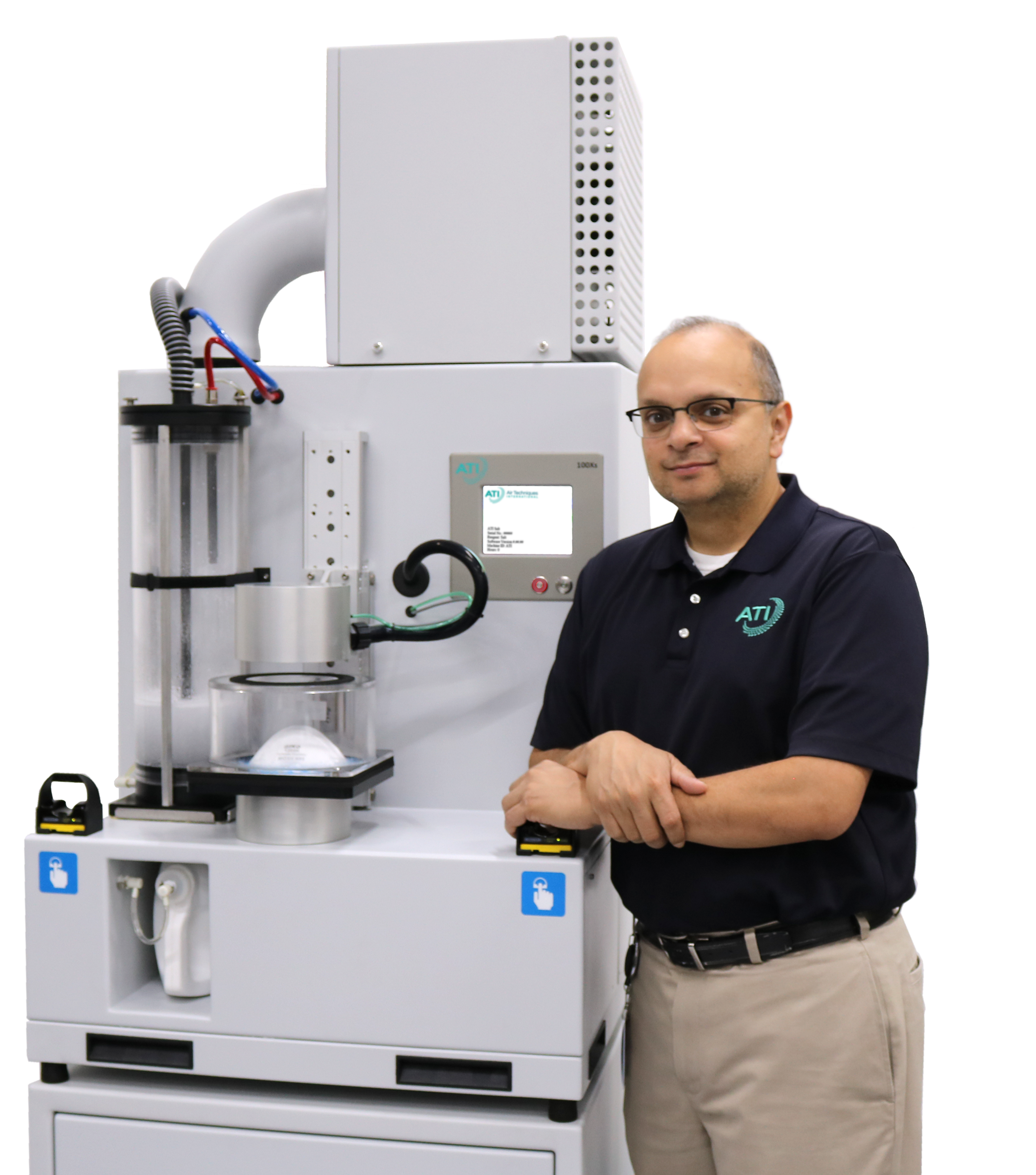 The 100X combines ATI's core technologies into a single, compact test unit designed for production, quality control, and R&D applications for test and validation of filter media, cartridges, and masks. In production environments, the 100X provides accurate and repeatable results while minimizing production downtime and maximizing throughput. In QC/R&D labs, the 100X provides the same accurate results while offering portability and quiet operation.
"During the pandemic we saw record demand for the 100X from established media and mask manufacturers, as well as from new organizations entering the market. Our ability to test media and masks to all the major standards, such as GB 2626, was a key decision point for these customers. Short lead times of less than 10 weeks were a big factor too," said Gautam Patel, Global Product Manager. The range of global standards the 100X meets includes: GB 2626, GB 19083, GB/T 32610, NIOSH 42 CFR Part 84, and EN 13274-7:2019 (Paraffin Oil), which are needed by major filter media companies and manufacturers worldwide.
To test KN95, N95, and FFP style respirator masks, ATI developed an accessory to hold each mask securely in the test fixture and prevent it from being damaged while being tested. The adapter allows the aerosol to enter the adapter and challenge the mask according to industry standards. When the test completes the mask can be easily removed from the adapter and the adapter can be prepared for the next mask test. "The ATI mask test adapter makes it very easy to test your mask. It is simple to prep for testing, yet is sturdy, light weight, and able to accommodate a wide range of mask types and sizes," said Patel.
The 100X will be featured at Filtration and Separation Asia 2020, Shanghai, China on December 9-11. The event combined with China International Filtration & Separation Exhibition forms the largest filtration event in Asia. Bring your media or mask to booth #C18 and receive a FREE test. To view a short animation and learn more about the 100X visit us online at: https://www.atitest.com/products/100x
About Air Techniques International
Air Techniques International (ATI), a division of Hamilton Associates, Inc., is a global leader in the design and manufacture of specialized testing equipment for HEPA filters, media, filter cartridges, respirators and protective masks since 1961.
Media Contact:
Air Techniques International
Dave Fisher
Global Marketing Communications Manager
410-363-9696 x6010
dfisher@ATItest.com