100X Automated Filter Tester
Product Overview
The 100X Automated Filter Tester is designed for test and quality control validation of filter media, cartridges and masks used in medical and industrial hygiene applications. Designed to meet NIOSH 42 CFR Part 84 standards, the 100X is a high capacity automated filter test and validation solution ideally suited to meet the precise and rigorous requirements of R&D, quality control, and production environments.
Applications
Flat Sheet Filter Media

HEPA / ULPA Grade
Electret media

Filtering Face Pieces
Medical Device Filters
PAPR Filters
Key Features & Benefits
100% Sampling Aerosol Detection System
Most accurate pressure measurement available
Best-in-Class Aerosol Flow Rates
Aerosol Detection to 99.9995%
Patented Aerosol Replenishment System Eliminates Production Down-time.
Automatic, Hybrid & Manual Configurations
Delivering Best-in-Class Performance and Low Cost of Ownership
The 100X is a highly accurate and flexible test rig for a wide range of filter media types designed to optimize production yields while delivering the lowest cost of ownership.
100% Sampling Aerosol Detection System
The 100% Sampling Aerosol Detection System is capable of testing a wide range of HEPA and ULPA filters, up to 99.9995% efficiency. The innovative design provides a single source of truth, reduces potential sampling errors inherent in legacy designs and with fewer, more robust parts, reduces serviceability costs while increasing equipment uptime.
Most Accurate Pressure Management Available
The 100X can be configured with pressure transducers specific to your needs, providing highly accurate, repeatable results that minimize false failures, while increasing both production yields and confidence in the test results.
Automatic, Hybrid & Manual Configurations
The 100X can be configured at time of order to operate three ways:
A Manual version is ideal for lab use or production lot testing and requires an operator to engage a test using ergonomic photo-electric actuators. Included is a manual test fixture and standard 100cm2 flat sheet media fixture.
The Automatic version integrates seamlessly with a customer designed, PLC-driven, automated production line and is ideal for 100% in-line non-destructive product testing. The unit is controlled via communication ports and becomes a client device to the automated production line.
The Hybrid version provides the versatility to operate in manual mode using the local test fixture or can be switched to become an Automatic version in the automated production environment.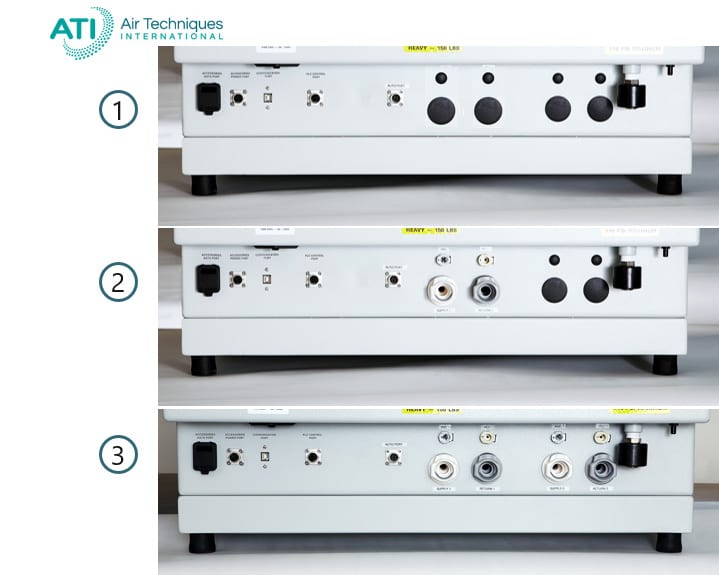 Operating Modes
#
Name
Description
1
Manual
Lab, R&D, QC

For Hybrid or Automatic versions, additional aerosol lines run to a remotely operated PLC-controlled test fixture

2
Automatic
Production
3
Hybrid
Production; QC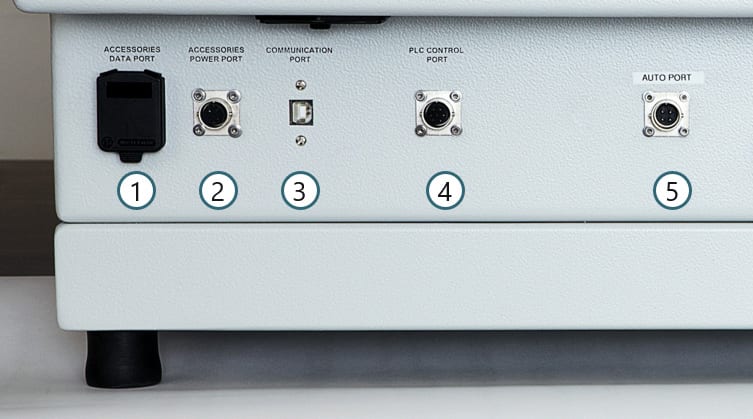 Communications
#
Name
Description
1
Accessories Data Port
RJ-45 Connection provides a communication interface for ATI designed accessories.
2
Accessories Power Port
4-pin circular connector with bayonet lock provides a dedicated 24VDC power supply for ATI designed accessories such as the Local Exhaust Module.
3
USB Port
Provides serial data acquisition capability.
4
PLC Control
External Start – Used to start an instantaneous test; Ready – Indicates that the unit is ready to start a new test; Pass – Indicates a passed test; Fail – Indicates a failed test; Fault – Indicates a non calibrated state for the system when coupled with the Cal Mode status indicator or a fault; Cal Mode – Indicates when a calibration routine is taking place.
5
Auto Port
Wide Range of Aerosol Flow Rates
The 100X is capable of best-in-class air flows between 5-120 liters per minute (and up to 180 liters per minutes with the high-flow 100Xp oil aerosol model), providing a highly flexible test that can test a wide range of filter resistance types.
Oil or Salt Aerosol Generation
The 100X is available in either an Oil (DOP, PAO) or Salt (NaCl) aerosol generation models. The patented Aerosol Solution Replenishment System is a separate 4-liter reservoir tank that increases productivity by eliminating the need to shutdown production to refill the generator. For salt-based test systems, the replenishment system mitigates aerosol concentration and size / distribution shifts due to dynamic salinity.
Other Features include:
LCD touch screen user interface
USB; PLC-Controls (for Automatic, Hybrid version)
Compartmentalized design, with easy access for filter replacement and serviceability
What's Included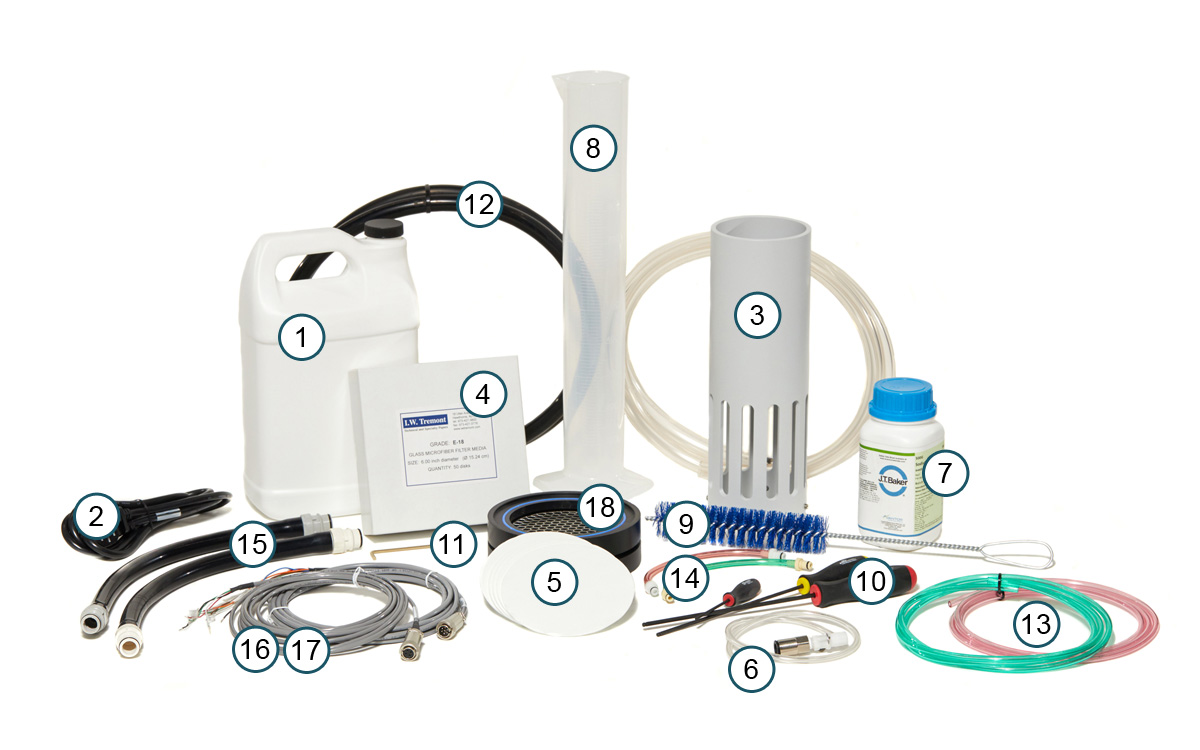 Standard
Automatic
Hybrid
#
Description
100Xs
100Xp
100Xs
100Xp
100Xs
100Xp
1
Replacement                  Re-Fill Jug
4100172
2
Power Cord (120V NEMA 5-15 or CEE 7/4 240V)
6700001/T2G0-0063
3
Canopy Exhaust Connection
1000665
4
Greenline Penetration Verification Media
5500175
5
Gravimetric Test Media
5500176
6
Adapter Kit
0600490
7
Reagant Grade NaCl, 500 grams
8100375
N/A
8100375
N/A
8100375
N/A
8
1000mL Graduated Cylinder
4900132
N/A
4900132
N/A
4900132
N/A
9
Brush
4800267
N/A
4800267
N/A
4800267
N/A
10
Ball end hex drivers (4mm, 2.5mm, 9/64″)
4800264, 4800265, 4800266
11
3mm Allen Wrench
4800275
12
Aerosol Lines
N/A
5200192
5200155
5200192
5200155
13
Pressure Lines
N/A
5200153, 5200152
5200153, 5200152
14
Pressure Line Jumper Tubes
N/A
5200152, 5100785:
5200153, 510567
15
Aerosol Line Jumper Tubes
5200192,
0600505:
5200192,
0600503
5100153,
0600505:
5100153,
0600503
16
PLC Port Connection Cable
N/A
6700219
17
Auto Port Connection Cable
N/A
6700222
18
Gravimetric Filter Holder
9300225
Not Shown
1 Gallon DOP Reagent
N/A
T100-0627
N/A
T100-0627
N/A
T100-0627
Not Shown
1 Gallon PAO Reagent
N/A
T100-1075
N/A
T100-1075
N/A
T100-1075
Specifications
Performance & Product Specifications
100Xp (Oil)
100Xs (Salt)
Reagents
DOP, PAO-4
NaCl
Primary Aerosol Reagent
4% NaCl solution by weight
Replenishment Reagent
0.9% NaCl solution by weight
Controls
Available in Manual, Hybrid and Automatic configurations
Aerosol Generation
Particle Size
Count Median Diameter (CMD) 0.18µm ± 0.02
Count Median Diameter (CMD) 0.075µm ± 0.02
Mass Mean Diameter (MMD) 0.3µm
Mass Mean Diameter (MMD) 0.26µm
Geometric Standard Deviation (GSD) < 1.6
Geometric Standard Deviation (GSD) < 1.86
80 – 120 mg/m3 concentration
18 – 25 mg/m3 concentration
Flow Rate Options
5 – 120 L/min (0.18 – 4.2 SCFM) (Standard)
5 – 40 L/min (0.18 – 1.4 SCFM) (Low-Flow option available)
5 – 180 L/min (0.18 – 6.3 SCFM)
(High-Flow option available)
Aerosol Flow Accuracy
Accurate to ± 0.4% of reading, plus + 0.2% full scale
Aerosol Detection
Dynamic Range
0.1 µg/m3 to >200 mg/m3, accurate to ± 1% of reading
Penetration
0.0005%
Efficiency
99.9995%
Pressure Management
0-100 mm/WC
Pressure Range Options
0-25 mm/WC
0-50 mm/WC
Accuracy
0-250 mm/WC
±0.25% of full scale
Test Fixture
Standard Size: ID 11.4 cm (4.5 in); Custom Sizes up to 30.5 cm (12 in)
Stroke Height: 14.6 cm (5.75 in) Standard
Communication Ports
USB; Data Connection; PLC-Controls (Automatic, Hybrid version)
Utilities

Power: 110VAC, 5.5A; or 220VAC, 2.5A (50/60 Hz)

Compressed Air: 311 Lpm at 6.55 bars +- 0.35 Bar (655KPa +- 35KPa)
or 11 SCFM at 95 psig +- 5.0 psig
Air Supply Line ID: >9.5 mm (0.375″)
Dimensions

(L x W x H)

100X: 71 cm x 69 cm x 89cm (28 in x 27 in x 35 in)
Optional Base: 71 cm L x 69 cm W x 76 cm H (27 in x 28in x 30 in)
Weight
100X: 75 kg (165 lbs)
Base: 38.6 kg (85 lbs)
Compliance
CE, RoHS, FCC, CSA
Common Applicable Standards
NIOSH 42 CFR Part 84: Respiratory Devices
ISO 23328: Breathing System Filters for Anesthetic and Respiratory Use
ISO 16900-3: Respiratory Protective Devices
IEST RP-CC001, RP-CC021 (HEPA/ULPA Filters and Flat Sheet Media)
Accessories
Accessories:
The 100X Series Automated Filter Tester can be moved to where it's most needed with the optional base/storage cabinet and local exhaust module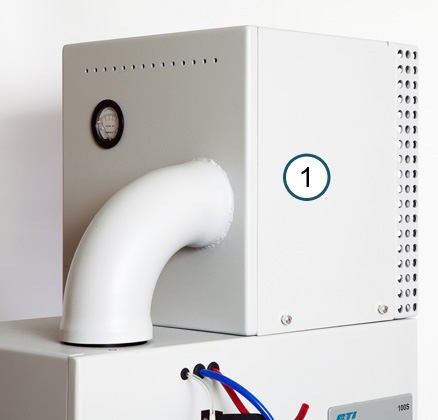 Reliable local exhaust module, ideal when facility exhaust is not available
Convenient differential pressure gauge to help determine when to replace the internal HEPA filter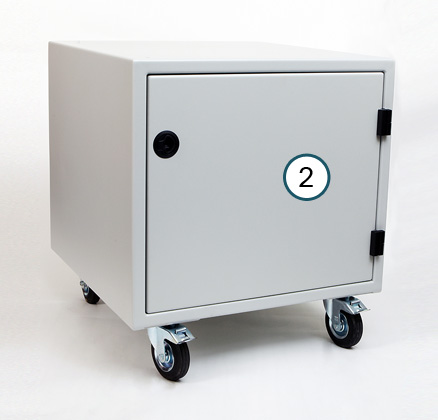 Large 71 cm L x 69 cm W x 76 cm H (27 in x 28 in 30 in) cabinet convenient for storing manuals and tools
Large 12.7 cm (5 in) heavy duty locking swivel casters for portability and stability
100X Accessories
#
Description
Part Number
1
Local Exhaust Module
9300224
2
Base Storage Cabinet
9300227
Part Numbers
Part Number & Ordering Information
100XP
(Oil Series)
100XP Base Unit – 120v, Oil, Air Flow 5-120 L/min,
Pressure (0-100mm WC), Manual Controls
100X-PM
100XP Base Unit – 240V, Oil, Air Flow 5-120 L/min,
Pressure (0-100mm WC), Manual Controls
100X-PM-240
100XP Auto Unit – 120v, Oil, Air Flow 5-120 L/min,
Pressure (0-100mm WC), Automatic Controls for PLC integration
100X-PA
100XP Auto Unit – 240v, SOil, Air Flow 5-120 L/min,
Pressure (0-100mm WC), Automatic Controls for PLC integration
100X-PA-240
100XP Hybrid Unit – 120V, Oil, Air Flow 5-120 L/min,
Pressure (0-100mm WC), Hybrid Controls
100X-PMA
100XP Hybrid Unit – 240v, Oil, Air Flow 5-120 L/min,
Pressure (0-100mm WC), Hybrid Controls
100X-PMA-240
100XS
(Salt Series)
100XS Base Unit – 120v, Salt, Air Flow 5-120 L/min,
Pressure (0-100mm WC), Manual Controls
100X-SM
100XS Base Unit – 240V, Salt, Air Flow 5-120 L/min,
Pressure (0-100mm WC), Manual Controls
100X-SM-240
100XS Auto Unit – 120v, Salt, Air Flow 5-120 L/min,
Pressure (0-100mm WC), Automatic Controls for PLC integration
100X-SA
100XS Auto Unit – 240v, Salt, Air Flow 5-120 L/min,
Pressure (0-100mm WC), Automatic Controls for PLC integration
100X-SA-240
100XS Hybrid Unit – 120V, Salt, Air Flow 5-120 L/min,
Pressure (0-100mm WC), Hybrid Controls
100X-SMA
100XS Hybrid Unit – 240v, Salt, Air Flow 5-120 L/min,
Pressure (0-100mm WC), Hybrid Controls
100X-SMA-240
100X
Accessories
100X Optional Base/Storage Cabinet
9300227
Local Exhaust Module
9300224
100X Custom Chuck
Call for Quote
100X
Options
High
Accuracy
Pressure
Transducer
0-25mm WC
Specify When Ordering
0-50mm WC
Specify When Ordering
0-100mm WC
Standard
0-250mm WC
Specify When Ordering
Oil
Generator
Choice
PAO
Standard
DOP
Specify When Ordering