New adapter enables testing of N95, KN95 and FFP-style respirator masks.
OWINGS MILLS, MD — 18 May 2021 — Air Techniques International (ATI), a global leader in the design and manufacture of specialized testing equipment for HEPA filters, media, filter cartridges, respirators, and protective masks, announced today the release of a new mask test adapter for testing personal protective equipment (PPE). The adapter is an airtight fixture that securely holds cup and duckbill style masks commonly seen with N95, KN95, FFP, and P100 respirators in place, while allowing aerosol to enter the adapter and challenge the mask according to industry standards such as NIOSH 42 CFR Part 84, GB 2626 and EN 13274-7.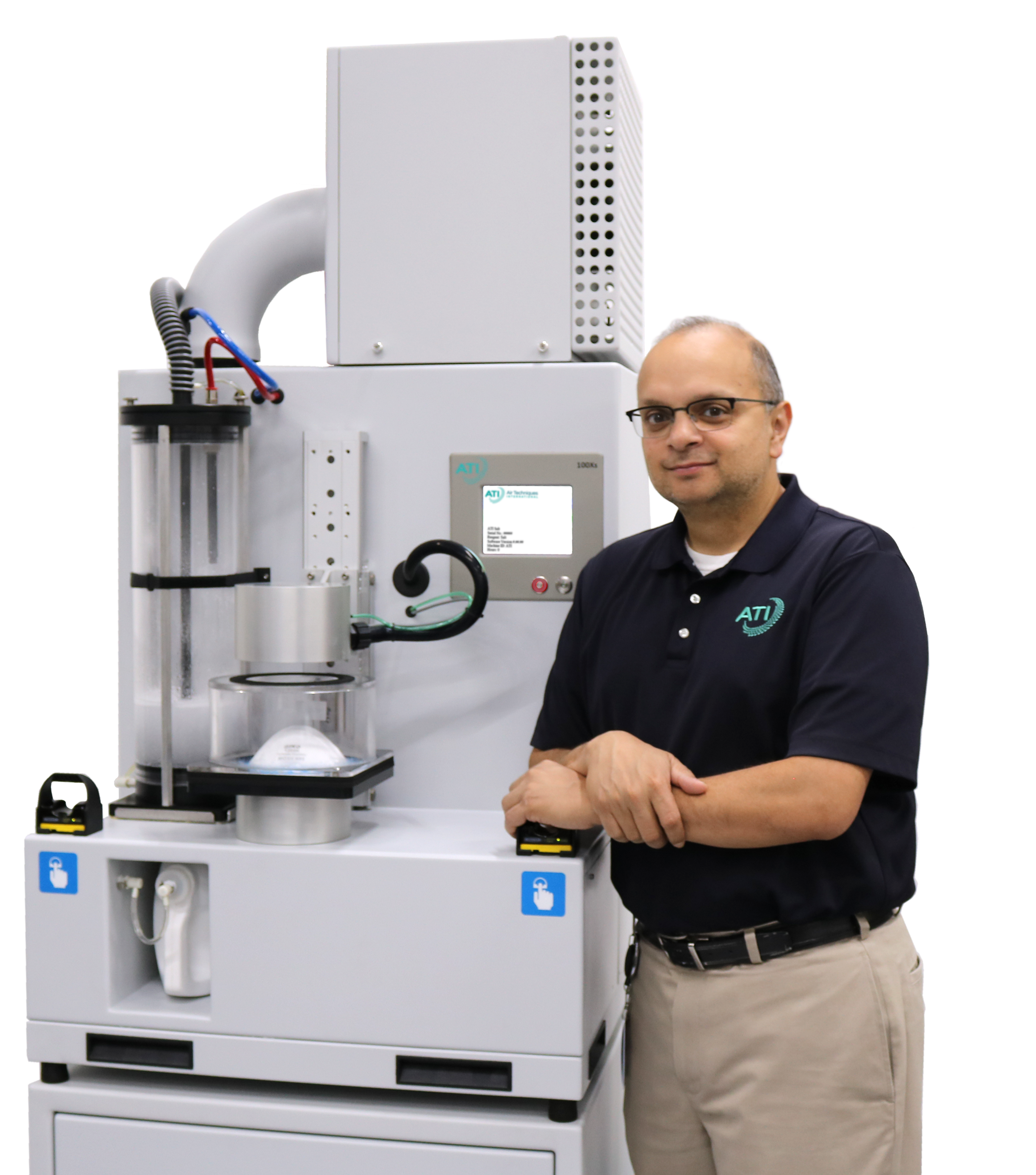 The new mask test adapter is sturdy, yet light weight and accommodates a wide range of respirator types and sizes. Several customers have already purchased the new adapter and feedback has been very positive.
"Our masks are unique in shape and provide a high level of protection and therefore we needed a mask test adapter that can allow for quick and easy testing. ATI's 100X mask test adapter is used for quality assurance tests of our high-performance filtration masks and we found the design protects the mask under test and best of all the mask test adapter can be cleaned and reused in under five minutes. Accurate results are a must for us, and the 100X mask test adapter ensures the results are both accurate and repeatable," said Sherif Soliman, Chief Executive Officer, Matregenix.
The new ATI mask test adapter provides the flexibility to test a variety of mask designs and sizes. The acrylic material is easy to handle, easy to clean, and is reusable. "Our goal was to design a high quality and versatile adapter at an affordable price point. We used the finest materials to make a durable adapter that is able to withstand thousands of test cycles if handled and maintained properly," said Gautam Patel, Global Product Manager.
The mask test adapter is available as a kit and includes everything that is needed to test a respirator:
Acrylic mask test adapter base and cover
Reusable substrate
Package of putty
Instruction manual
We also created a reference video as a supplement to the instruction manual that details the step-by-step process for preparing a mask for a test. "The process of adhering the mask to the substrate using putty is very simple and is easily accomplished with a little practice. Our manual and video offer tips to make the process even easier," said Patel.
To see how a mask is prepared for testing, click the link below to the YouTube video: (https://youtu.be/VZI8WIETbtE) or visit our YouTube channel (ATI University) to see our entire library of 100X videos.
To learn more about the 100X Automated Filter Tester and how it is used in production, quality control, and R&D applications to test and validate filter media, cartridges, and respirators, visit the 100X product page at: https://www.atitest.com/products/100x/
For questions or ordering information, please contact ATI Sales at: info@atitest.com.
About Air Techniques International
Air Techniques International (ATI), a division of Hamilton Associates, Inc., is a global leader in the design and manufacture of specialized testing equipment for HEPA filters, media, filter cartridges, respirators and protective masks since 1961.
Media Contact:
Air Techniques International
Dave Fisher
Global Marketing Communications Manager
410-363-9696 x6010
dfisher@ATItest.com