Precise and reliable results reported by filter media companies and manufacturers across the Americas, Europe, and Asia Pacific
OWINGS MILLS, MD — 18 February 2020
Air Techniques International (ATI), best known for its decades of experience as a leading designer and manufacturer of photometers and generators used in the clean air and containment industry, acknowledges widespread acceptance of the 100X Automated Filter Tester.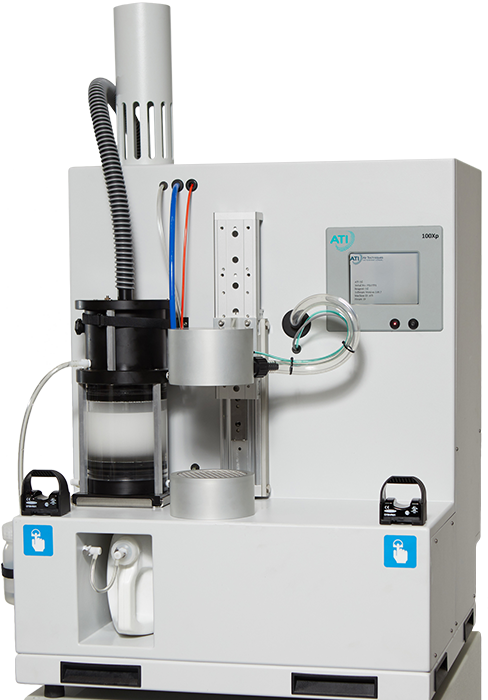 The 100X combines ATI's core technologies into a single, compact test unit designed for production, quality control, and R&D applications for test and validation of filter media and cartridges. In production environments, the 100X provides accurate and repeatable results while minimizing production downtime and maximizing throughput. In QC/R&D labs, the 100X provides the same accurate results while offering portability and quiet operation.
The 100X meets global industry standards such as NIOSH 42 CFR Part 84 and GB 2626, needed by major filter media companies and manufacturers worldwide. The 100X offers a user-friendly touchscreen interface and rich feature set, all at a low cost of ownership. "We also offer custom and remote test fixtures to accommodate unique filters and production environments where space is limited. Customer feedback has been very positive," said Gautam Patel, Global Product Manager.
"We are very pleased with ATI's 100X Automated Filter Tester. The 100X has performed well on our fast paced, high-volume production line. ATI has been easy to work with and is very responsive to our needs," said a Senior Process Engineer of a leading manufacturer of filter cartridges.
The 100X will be featured at FiltXPO 2020, Booth #604, Chicago, Feb 26-28, North America's only exhibition and technical conference dedicated exclusively to filtration and separation. To view a short animation and learn more about 100X, visit us online at: https://www.atitest.com/products/100x-automated-filter-tester/
About Air Techniques International
Air Techniques International (ATI), a division of Hamilton Associates, Inc, has been a global leader in the design and manufacture of specialized testing equipment for HEPA filters, media, filter cartridges, respirators and protective masks since 1961.
Media Contact:
Air Techniques International
Dave Fisher
Global Marketing Communications Manager
410-363-9696 x6010
dfisher@ATItest.com