Valued ATI Customers and Friends,
All of us have been affected in some way by the COVID-19 pandemic and the worldwide
containment response. Our hearts go out especially to the many people who have lost loved ones,
and those whose health may be impacted in the weeks and months ahead. We are all trying to
strike a balance between protection and continuity in this unprecedented moment.
ATI continues to operate, and we are addressing this crisis with the urgency it demands to protect
public health while taking calm, reasonable action to uphold our critical role in the global supply
chain. We take seriously our responsibilities to protect our people and communities and to ensure
the continuity of the global supply of our products and services that keep people safe in the
manufacturing of medicinal products, respiratory protection devices, and other critical life-safety
functions.
Here is a summary of our current situation and recent actions:
We continue to manufacture, calibrate, and repair our instruments and support our
customers and partners.
We are taking several actions to increase material supplies and cross-train existing
employees to fulfill increased demand for our products and maintain continuity of supply.
We are protecting employees through social distancing and vigilant hygiene and
disinfection practices. And we will continue to follow guidance from health agencies at our
locations in the US and UK. We are staggering shifts in Manufacturing and Service, while
setting up a significant percentage of staff to work from home effectively.
We have instituted a non-essential travel ban. We will continue to travel when absolutely
required to keep our customers operating (post-sale services) or to help specify their ATI
equipment needs (pre-sale services). But we will first attempt remote-support options
whenever possible, both to protect our employees and those of our customers.
We are proud of the essential role we play helping you keep the world safer, cleaner, and healthier.
We thank you for your business and the confidence you place in us and we look forward to
supporting you in the months and years ahead. Stay safe but stay connected to us.
Sincerely,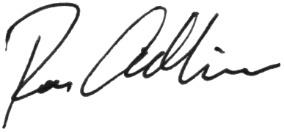 Ron Adkins
President, ATI